Jorge is a musician who cames from the academic training (professional flute degree and high degree on accordion) and who has combined his technical profile with his participation in traditional bands, folk music bands and chamber ensembles. Member of La Musgaña since 2005, musician at Celtas Cortos and integral part of the duos Taper Duel and Feten Feten). The international tours and projects / collaborations alongside great musicians and friends encourage the creativity and openness in his language. From tradition to the new sounds.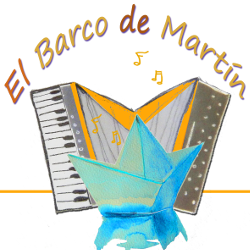 Children's / family didactic concert "El Barco de Martín". dossier, rider, info
Discover countries, instruments and rhythms from Asia, Africa, Europe and America. Travel through France, Italy, Ireland, Russia and other countries with the melodies and instruments that Jorge proposes to us in this show.
A fun concert in which through the game we will learn geography, discover rhythms, dance and listen to melodies of the world's popular music.
Jorge Arribas: Accordion, melodion, tabor pipe, vulture wing flute, camping chair flute, kalimba, theremin, transverse flute, bansuri, bawu, dizi, whistle, sulling, tambourine, drum and loop station.